Central Ohio Labor Council Members Provide Help To A Region in Crisis
The Central Ohio Labor Council is rapidly responding to the pandemic and the growing economic crisis in the Columbus, Ohio, area. It recently coordinated the delivery of two semitrailers carrying more than 3,800 cases of frozen food to hundreds of individuals in need of food relief. The food was donated by Bellisio Foods, a plant operated by United Food and Commercial Workers (UFCW) Local 1059 members in Jackson, Ohio. Union members delivered the donated food to the Mid-Ohio Food Collective in Grove City. The council is reaching out to other food suppliers in the region to urge them to donate more to keep the food bank stocked up. Its next target is General Mills, another plant which employs UFCW members.
"This is a time for leadership, and as leaders in the labor movement, it's up to us to get out and secure the resources that we can for everybody—not just union members, but people in the community, too," said labor council Executive Director Mark Fluharty. "Labor comes together and helps to support the community. I've always known that because of the Christmas food drive we hold every year, but this is the same thing on steroids. This crisis just showed me what I already knew." The council plans to help the National Association of Letter Carriers (NALC) to ramp up its annual food drive in May, even if it has to do it this year in untraditional ways like a food drop-off. Read More
---
Revealed: nearly 100 US transit workers have died of Covid-19 amid lack of basic protections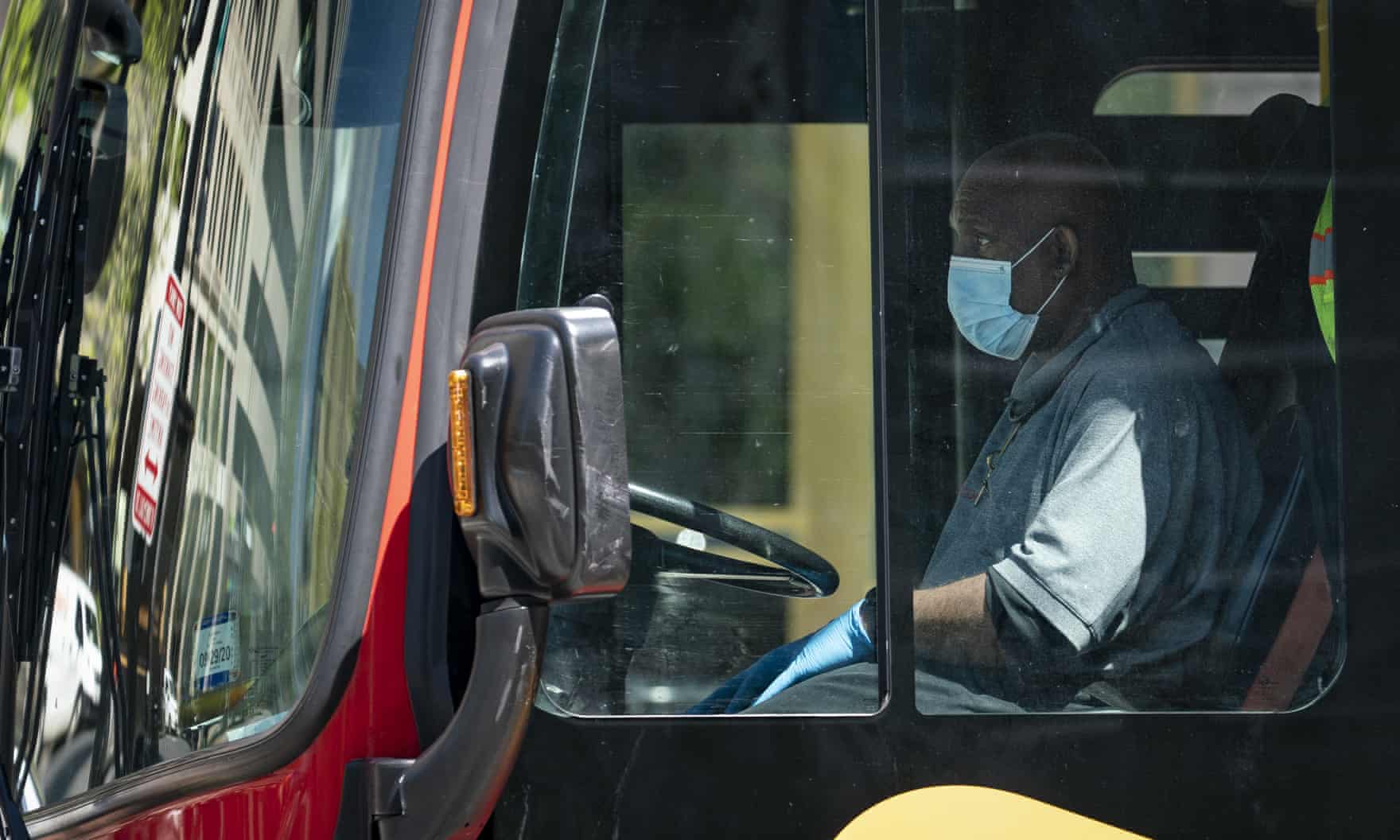 Nearly 100 American transit workers have died from the coronavirus as basic measures to keep employees safe have lagged in cities across the United States, a Guardian US investigation has found. Even after the death of a public bus driver in Detroit put a spotlight on the risks that transit workers face, transit agencies in many cities have been slow to provide simple protections, like face masks or paid sick leave.
Interviews with union officials, workers and transit authorities in a dozen major cities reveal that:
At least 94 transit workers have succumbed to coronavirus, according to two national transit unions, New York City transit officials, and workers in New Orleans. This number includes many kinds of workers who keep transit systems running, from mechanics and maintenance workers to bus and subway operators. The number of all transit workers who have died of coronavirus across the US is likely higher.
Some of America's largest cities, including Denver, Colorado; Columbus, Ohio; Atlanta, Georgia; Seattle, Washington; and Milwaukee, Wisconsin only started giving out face masks to public bus drivers very recently.
Only a few places, including Oakland, California; Columbus, Ohio; and New Jersey, currently require passengers to wear face masks in order to ride, a policy many bus drivers described as essential to their safety. Read More
---
University of Cincinnati Nurses Union Fight To Protect Front-Line Caregivers, Patients
Labor turmoil at the University of Cincinnati Medical Center rose to a boil this week with members of the nurses' union complaining to management about pandemic working conditions and lost hours in system cutbacks.
The Registered Nurses Association, the collective bargaining representative for 1,700 nurses at UCMC, urged members Monday night to write to UC Health leaders and object to the answers they receive when questioning system managers.
The union wrote Monday evening to Beverly Bokovitz, UC Health's vice president and chief nursing executive: "It is time you take responsibility for your careless actions and provide real answers and solutions to the concerns raised by nurses. It is dangerous and reckless to continue down the path that UCMC administration has chosen to follow so far during this unprecedented time."
The RNA letter asked Bokovitz for information on levels of equipment and numbers of nurses exposed and infected; to fix the workplace software to allow nurses to sign up for hours where openings occur; advocate for maximum use of protective equipment and "optimal staffing levels," and allow nurses a role in decisions about hospital response to the pandemic. Read More
---
Ohio Nurses Head to New York City to Help with Coronavirus Efforts
Nurses across the country are reaching out to help their healthcare colleagues in New York City. More than 1,500 have died from COVID-19 there and the cases are soaring to almost 50,000. After seeing these numbers, nurse at Grant Medical Center, Skyler Cook said he couldn't just sit by and watch from Ohio.
"If this was our community, I would want nurses to come help me," Cook said. "I became a nurse for a reason. It is to do the most good and to help as many people as I can." Cook signed up with travel nurse company, Aya Healthcare, which is sending nurses from all over the country to New York City to get to work.
"I felt a calling to do this," Cook said. "Their community is suffering a lot worse than ours is here currently. If the cases here rise to that level, I will definitely come back and get back to work here." Read More
---
ATU Members of RTA to Provide Free Rides to Dayton School Food Pickup Sites
Dayton Public School families can ride RTA buses for free during certain hours on Wednesdays to get to DPS' food distribution sites during ongoing coronavirus-related school closures. Starting this Wednesday, families that show a DPS student ID or most recent DPS student report card can ride for free between 7 a.m. and 2 p.m., according to district officials.
The school district continues to hold food distribution events each Wednesday between 9 a.m. and noon at eight school sites — Louise Troy, Westwood, Rosa Parks, E.J. Brown, Kiser, Wright Brothers, Ruskin and Belmont.At the distribution sites each Wednesday, DPS students receive enough food for five breakfasts and five lunches, according to district statments. Food can also be given to family members of the student. The student's name must be on the DPS enrollment list to receive food if the parent is not accompanied by a student. Read More
---
Due To High Demand, A Second Labor Union Blood Drive Set For April 29, 2020
Due to the high volume of support from our Union Brothers and Sisters our first Union Blood Drive filled up very quickly which was amazing. Thank you so much!!
As a result the American Red Cross will be holding a second Union Blood Drive on Wednesday, April 29, 2020 from 12:00 p.m. to 6:00 p.m. APPOINTMENTS ARE REQUIRED!!
Thanks to the many who gave blood and scheduled upcoming appointments over the past couple of weeks, the American Red Cross has been able to meet immediate patient needs. During this uncertain time, we encourage individuals to keep scheduled blood, platelet or AB Elite plasma donation appointments and to make new donation appointments for the weeks ahead to ensure a stable supply throughout this pandemic.
Donating blood products is essential to community health and the need for blood products is constant. As part of our nation's critical infrastructure, healthy individuals can still donate in areas that have issued shelter in place declarations. The Red Cross follows the highest standards of safety and infection control, and volunteer donors are the only source of blood for those in need. Read more
---
Corporations, Small Businesses, Labor and Community Groups Support Cleveland Clinic During COVID-19 Pandemic
Since the March 26 launch of Cleveland Clinic's COVID-19 Community Response Campaign, the Northeast Ohio community's generosity has been overwhelming and inspiring. Large corporations, small businesses, community groups and individuals have come forward to provide assistance to Cleveland Clinic's caregivers and help our efforts to prepare for a surge of patients due to COVID-19.
From Fortune 500 companies to a local trade union, various businesses have donated medical supplies and personal protective equipment (PPE), such as N95 masks, face shields and gloves. Grocery stores have dropped off packaged food and supplies and local restaurants have prepared meals for our front-line caregivers.
Large and small organizations, schools and community groups have donated a variety of supplies such as hand sanitizer, anti-bacterial wipes and gloves. The Cleveland-based Electricians Union Local 38 collected supplies they use on construction sites and donated N95 masks and gloves. Cleveland Whiskey has been producing hand sanitizer with the help of local breweries and beverage shops. Read more
---
Unions Are Working Hard To Protect Essential Workers
Local businesses and industries deemed "essential" under  Gov. Mike DeWine's order are keeping employees on the job and working to keep their environments safe and clean during the coronavirus pandemic.
Norm Shoemaker, United Steelworkers Local #3057 president, said ArcelorMitttal in Shelby has implemented additional cleaning such as wiping down the locker rooms and lunch rooms, suspended all large meetings and more for social distancing compliance.
Employees' temperatures are being taken before they are allowed in the plant, Shoemaker said.
ArcelorMittal, often called "the Tuby," will continue to conduct business at its locations within the state of Ohio because it is an "essential business" pursuant to the stay-at-home order issued by the Ohio Department of Health in response to the COVID-19 outbreak. The stay-at-home order went into effect at 11:59 p.m. on March 23 and continues until at least 11:59 p.m.  April 6.
Shoemaker said employees at ArcelorMittal are being asked to continue to work so that its products can continue to provide for essential manufacturing in America. Read More
---
Union Sheet Metal Workers, Contractors Team Up to Produce Free Metal Nose Pieces for Face Masks
As health care workers and first responders across the United States continue to face critical shortages of face masks and other protective equipment, members of the International Association of Sheet Metal, Air, Rail and Transportation Workers (SMART) are collaborating with union contractors to produce and donate metal nose strips for the millions of masks being made by volunteer groups across the country.
The thin and flexible metal strips are critical to custom-fitting the top of a mask to a user's face, making them more effective, less likely to slip off and more comfortable to wear.
In late March, the Hillery Company, a custom metal fabrication shop located in Groton, Conn., began posting messages on its Facebook page announcing that the company would donate the nose strips to anyone looking to make masks.
"Hillery was asked by a local nurse to make the aluminum strips used on N95 masks so they could sew them in the cotton masks being made by volunteers around the country," said Hillery employee and SMART Local 40 member Joe de la Cruz in a message posted to the company's Facebook page on April 6. "I posted a picture showing a small box of strips on March 24th and it has since gone viral." Read More and request your free nose strips here
---
The Country Won't Work Without Them. 12 Stories of People Putting Their Lives on the Line to Help Others During Coronavirus
I start at 6:45 in the morning, and I usually get off around 6:30 p.m. Before 12 o'clock, it's like a ghost town. But after 12 o'clock, people start coming out. I greet almost every passenger that comes on. Most people are going to loved ones' houses to check on them. There's a few people that might be going to the grocery store. And some people have essential jobs they have to go to.
I feel proud to be able to do my part, especially for the ones that may be going to the hospital because they're worried that they have it, so they can get checked out. I was in the military, so I still have that sense of honor. I want to do everything I can to make sure that people are taken care of and protected. My employer moved the standing line back so that we're kind of in an isolated area, and people are now coming in and out the backdoor, so there's no more up-close personal contact with people coming near the fare box. I also make sure that I'm keeping myself sanitized and everything, but I feel more proud about helping other people than, at this moment, my own safety. For the full story of Andre Anglin's, TWU bus driver in Columbus, Ohio, READ MORE
---
Ohio SOS partnered with Red Cross, OPEIU Local 1794 and AFL-CIO to Offer Vote-By-Mail Requests to Voters at Blood Drive
Thanks to the many who gave blood and scheduled upcoming appointments over the past couple of weeks, the American Red Cross has been able to meet immediate patient needs. During this uncertain time, we encourage individuals to keep scheduled blood, platelet or AB Elite plasma donation appointments and to make new donation appointments for the weeks ahead to ensure a stable supply throughout this pandemic. The North Shore AFL-CIO and OPEIU Local 1794 partnered for a blood dive in Cleveland and we thank the Ohio Secretary of State for helping get Vote By Mail applications into the hands of voters.
Donating blood products is essential to community health and the need for blood products is constant. As part of our nation's critical infrastructure, healthy individuals can still donate in areas that have issued shelter in place declarations. The Red Cross follows the highest standards of safety and infection control, and volunteer donors are the only source of blood for those in need. Read More
---
Musician's Relief Fund Virtual Concert Series
Beginning April 3rd, 2020 the Local 4 Music Fund in partnership with the Cleveland Federation of Musicians Local 4 is producing a series of concerts available LIVE every Friday on the CFML4 Facebook Page. These concerts are part of a fundraiser for the 'Musician's Relief Fund', a fund working to assist those North East Ohio musicians who have been affected by the COVID-19 Pandemic. All donations received by the Local 4 Music Fund will go towards the 'Musician's Relief Fund' and to the assistance of our cultural community.
The Local 4 Executive Board has approved the full use of the 'Musician's Relief Fund' to address the needs of our membership during the COVID-19 Pandemic.  Every member is eligible to apply to the Relief Fund.  To view last performances and to see the schedule of future concert, Read More 
---
AFSCME Members Fighting on the Front Lines of the COVID-19 Pandemic
Derrick Fields, a head custodian at Medina Middle School in Columbus, Ohio, and president of OAPSE Local 580, works every day to provide a safe and sanitary learning environment for the roughly 400 students who attend his school.
"If we fail to keep classrooms, gymnasiums and cafeterias clean, that means both students and staff risk getting sick or injured," said Fields. "Amid the spread of a highly contagious and lethal virus, this work – although largely out of sight – becomes even more important in keeping our communities safe and healthy."
Fields said his greatest concern is ensuring the health and well-being of Columbus' children when they return to school once they reopen. Many students at his school don't have food at home. Despite the risks associated with venturing into the community, Fields has volunteered to assist in providing breakfast and lunch to kids in 13 locations during Ohio's school shutdown. Read more
---
Colerain Township NALC Mail Carrier Delivers Supplies to Elderly People on His Route
Postal worker Kyle West is delivering more than mail these days. West, also known as "Mailman Kyle," has been dropping off essential items like milk and toilet paper to elderly people on his mail route. West said a lot of the people along his route are elderly, which makes them more at risk for serious illness if they contract COVID-19.
"My favorite guy came out and asked me if I could please get him toilet paper. From then I realized that some people just can't do it themselves," West said.
So West started sending the people on his route a different kind of letter. The letter says people who are at risk and need help getting essential items should let him know and he will do what he can to help. He signed it "Mailman Kyle" and left his phone number.
"Seeing a lot of my customers putting on suits to just go get stamps I figured if I'm already there, it won't hurt me to bring what they need," West said.
The response was way more than he expected. He delivered just under 400 notes and has received some kind of response from every person that he gave one to. Read More
---
MLBPA's Shin-Soo Choo giving $1,000 to Every Minor League Player in Rangers' Farm System
Shin-Soo Choo is looking out for the younger players in the Texas Rangers minor league system during this pandemic.
The outfielder/designated hitter is giving each of the 190 minor league players in the Rangers' organization $1,000, Choo's agency, Scott Boras Corporation, confirmed to USA TODAY Sports.
The story was first reported by Korean website Naver Sports.
Choo also donated to a Crush Covid initiative Boras started to raise funds for Direct Relief, an emergency aid organization.
The website cited a text exchange between Choo and minor league outfielder Eli White in March after camps were closed because of the coronavirus.
"Hey, Choo, this is Eli. Thanks for helping me out with the per diem checks. It is going to help my wife and I out a lot," said a text from White.
"Eli don't worry about money. Just keep playing baseball. Let me know if you need something more," replied Choo. Read More
---
NFLPA's Myles Garrett to Team with Cleveland Hope Exchange for Big Food Donation
Pro Bowl pass rusher Myles Garrett is the latest Browns player set to give back to the community during the COVID-19 global pandemic.
Garrett on Saturday is teaming with the Cleveland Hope Exchange and a number of area businesses to provide more than 24,000 pounds of food and additional resources to those in need in Cleveland's Clark-Fulton neighborhood. The Cleveland Hope Exchange also hopes to raise $50,000 through the event.
Garrett joins his teammates Baker Mayfield and Larry Ogunjobi who made donations to the Greater Cleveland Food Bank. Browns owners Dee and Jimmy Haslam also pledged $1.5 million in relief funds. Read More
---
#USWCares: Our Union Donates Hundreds of PPE to Pittsburgh Hospital
The USW International Union dropped off boxes of personal protective equipment to West Penn hospital in Pittsburgh. The supplies belonged to the union's Health and Safety Department and were being stored for trainings, but International President Tom Conway asked that they be donated to frontline healthcare workers in the union's home city.
We were proud to donate 290 N100 masks, 650 EN14683 type 1 procedure masks and 100 liquid and particle white protective coveralls. The supplies were delivered by Chris Youngmark, Assistant to the Secretary Treasurer at the USW, which has a unionwide campaign going to try to round up PPE. Chris' wife, Marci, is the manager of the West Penn Surgical/Cardiothoracic/Burn ICU units and the newly opened Covid-19 Unit.
"Just as we're doing for our own members and every worker around the world, we are fighting in every way we can to help keep people as safe and healthy as possible while they take care of us during this pandemic," Conway said. "We'll use every tool we have to keep all workers safe, including fighting for federal legislation to ensure critically needed medical supplies are produced and delivered in a rapid, efficient manner by utilizing the Defense Production Act to ramp up manufacturing."  Read More
---
Schools Hold 'Teacher Parades' to Let Students See Educators In-Person Amid Statewide Closures
Staying at home has been a big change for everyone; especially for parents now educating their children from home.
Teachers took to the streets on Monday to show that even though schools have moved to distancing learning, they can still interact with their students.
Beverly Elementary School teachers held a parade Monday afternoon after getting multiple messages from families about kids missing their teachers.
With one teacher per vehicle, over 30 cars drove through neighborhoods beeping at waving at the families outside.
"The Beverly community is incredible. The Beverly staff is awesome, so I wasn't surprised at all at the turnout because this is how we roll in south Toledo, we're all about family," Beverly Elementary School assistant principal, Christine Coleman said. Read More
---
IUE-CWA demand GE make ventilators using laid-off workers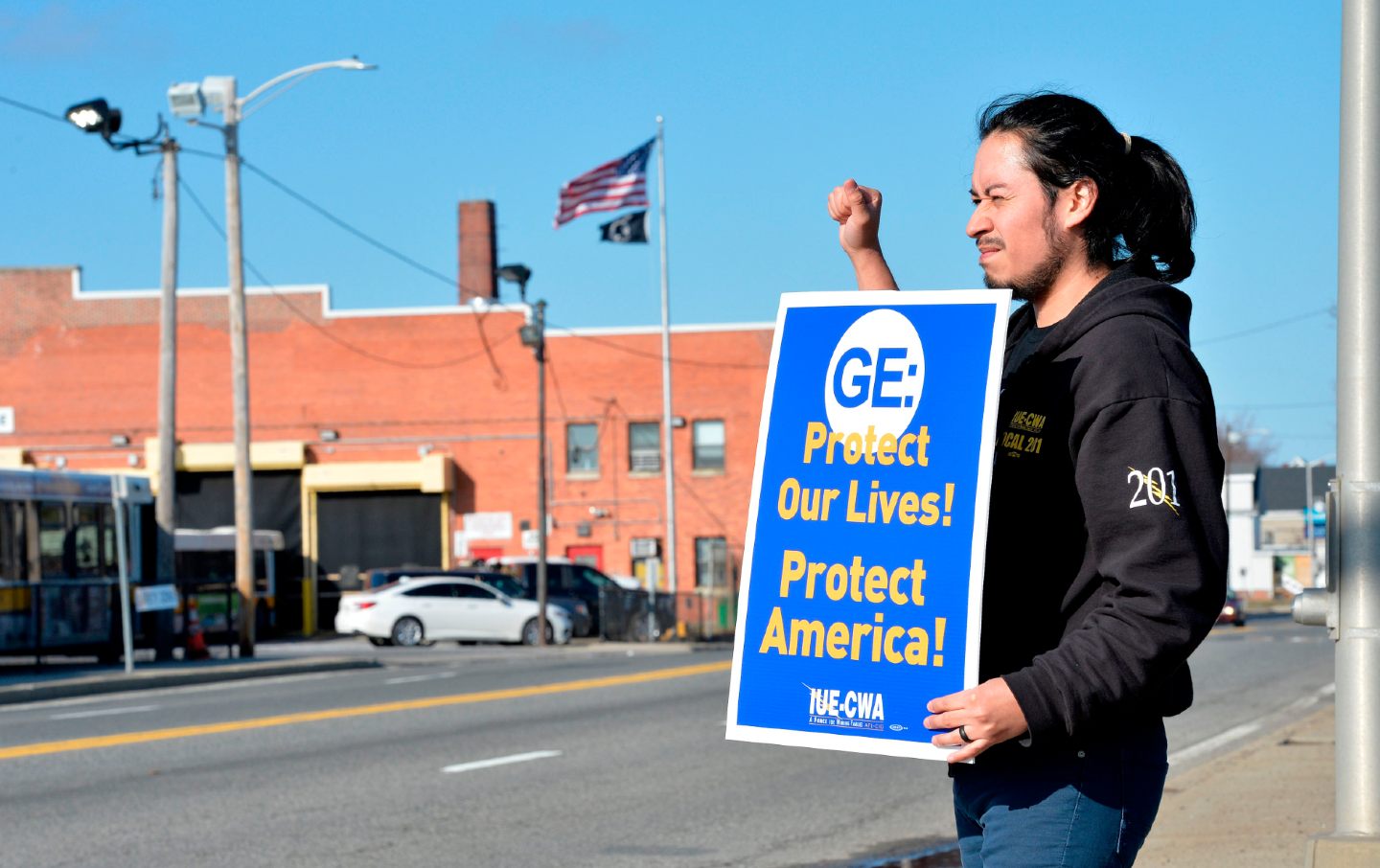 General Electric Co. faces twin demands from the labor unions that represent thousands of its workers nationwide: Bring back laid-off employees into its factories to manufacture ventilators, and better protect the employees now in those factories from the COVID-19 virus.
The Communications Workers of America and its industrial unit, the IUE-CWA, published a list of 14 demands on Monday related to Boston-based GE's (NYSE: GE) response to the coronavirus, following days of a contentious back-and-forth between the unions and the company. The demands include mandatory temperature checks of every person who enters a plant, as well as higher pay rates for employees working in facilities during the pandemic.
To underline the demands, a few dozen GE workers from its Lynn aviation plant, which employs 2,600 people, protested in front of the company's Fort Point headquarters — each practicing "social distancing" by marching at least six feet apart — hoisting signs that read "GE: Protect Our Lives! Protect America!" Read More.
---
AFSCME Ohio Council 8 Members Help Athens Schools In Time of Need
Members of AFSCME Local 1846 are working with the Athens public schools Board of Education to take care of their students' appetites for food and knowledge during the present health crisis.
Based on the results of a survey of the system's families "our members are working to making sure our students are being well fed and will continue to be well educated with on-line learning," said union president Monna French.
During the week Athens school food service employees prepare breakfast and lunch packages for students which are delivered by Local 1846 bus drivers and paraprofessional volunteers.
The school's survey also revealed a shortage of internet learning devices for the now stay-at-home students. "Our members are making sure students will have school issued tablets to keep up with their studies," said French, a student resource coordinator. Read more
---
'We're Just Here to Make Sure Everybody, No Matter Who You Are, is Taken Care Of'
"My name is Donna Ragland. I'm a food service manager, I work in Columbus Downtown High School. I've been a manager for 24 years and with the school for 26 years. I've been with OAPSE 20-plus years and am vice president of Local 143. I'm from Toledo, Ohio.
We go to our meetings and let the public know they need to stock up on medicine and food and keep some cash on hand. We pay attention to the elderly and make sure our kids are well fed. We make sure to clean everything thoroughly and keep in touch with our locals throughout the city.
We have food at 13 sites so any child of any age can come take breakfast and lunch to take home. Any child, no matter where you're from or what district you're in. And if you have siblings at home, you let us know so you can take food home for your other siblings. Read more
---
Union Members United To Meet Children's Needs
These are challenging times and Toledo Public Schools teachers and staff, with the support of our community, have been able to rise to the challenge and continue meeting the needs of our students.
Our first priority is making sure that our students' physical needs are being met. That includes making sure they are receiving their school meals, and thanks to support from Mercy Health, Northwest Ohio AFL-CIO, Northwest Ohio Building Trades Council, United Way, and Connecting Kids with Meals, we have been able to make sure our students are also receiving meals to take home each weekend. This is a great example of our community coming together to help our children thrive, and we thank everyone who has helped fund this work or who has helped distribute food or stuff backpacks for our students. READ MORE
---
First Responders: 'God is With You' Rossford Priest 'Blesses the Badges'
First responders were reminded that they are not alone in this time of crisis. A "Blessing of the Badges" was held Tuesday for all area first responders including police, firefighters and EMTs.
Father Anthony Recker, pastor at All Saints Catholic Church, led the prayer. "Now is the time of anxiety, so we certainly want them to know that God's with them during this time," he said.
About 40 emergency vehicles drove into the church parking lot for the blessing. As Recker prayed, the vehicles flashed their lights, illuminating the Lime City Road parking lot. Recker moved among the patrol cars, ambulances and fire trucks, sprinkling holy water.
"We have police, fire, EMS coming together to remind the community that no matter what happens, we are all going to be here to serve them," Recker said. Read more.
---
Grocery Workers Are Keeping Americans Alive During the COVID-19 Pandemic
As worried Americans pack supermarket aisles in anticipation of quarantines and shelter-in-place orders, grocery workers like Courtney Meadows are working at a frantic pace to keep Americans fed and alive, and risking their own health in the process.
Meadows, a cashier at Kroger in Beckley, W.Va., said her store is the busiest she has seen it in 10 years on the job. "I have worked through snow scares, a blizzard, two derechos, holidays, anything that can impact a grocery store," she told me. "This is the absolute worst I have seen it. It is a sea of people everywhere." Here's what they need.
Even in the absence of specific CDC guidelines for grocery workers, employers should act boldly and creatively to modify stores to keep workers safe, continuously adapt to evolving best practices, and respond to safety priorities identified by unions like the United Food and Commercial Workers International Union (UFCW), which represents over 1.2 million workers. READ MORE
---
Cleveland Schools Offering Free Meals to Anyone Under 18; Students Depart for Three Weeks with Lesson Packets
The Cleveland school district will offer free grab-and-go lunches and breakfasts to anyone under 18 during the coronavirus shutdown, regardless of where students attend school.
District CEO Eric Gordon said the U.S. Department of Agriculture approved the district to distribute food to any needy minor. So distribution centers at 22 schools will offer two meals a day from Monday to Friday to youths, no matter whether they attend a district, suburban, charter or parochial school.
The district will also run shuttles from all of its PreK-8 schools to the distribution centers, so parents and children have easy access.
"They only have to walk to their closest school in the neighborhood, get on the bus, get their grab-and-go food and then be dropped back off at home," he said.
For district students, their Regional Transit Authority passes will remain active during the shutdown, so they can use them to get to the distribution points.
And the district will use the food distribution centers to also give students take-home lessons periodically during the three weeks.
"We're going to have them picking up as they go, so that they are getting a little dose every day," he said.
Click here for more information and a list of meal pick-up shuttle sites
---
Union Food Production Workers are Critical During the COVID-19 Pandemic
The BCTGM represents thousands of workers at food processing facilities throughout North America who are working around the clock to keep grocery shelves stocked and food on the tables of working families in the United States and Canada.
The food processing sector has been deemed an 'essential industry' by federal and state governments in the United States. The importance of BCTGM members' contribution to the U.S. economy could not be more apparent; the work BCTGM members do in industrial bread bakeries, flour mills, cereal, yogurt, snack foods and other production facilities is essential to the health and well-being of North American families.
Union members are hard at work producing products in manufacturing facilities like Bimbo Bakeries USA, Kellogg, Keebler, Nabisco, General Mills, Cargill, Ardent Mills, Quaker Oats amongst others, to rapidly re-stock grocery store shelves and replenish the supply of foods. Read more.